Main content starts here, tab to start navigating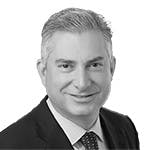 Frank S. Vellucci
Owner & CEO
Admittedly, poke is Frank's comfort food. Vellucci has described his introduction to Sweetcatch Poke as the perfect opportunity to invest in a restaurant group because he was simply in love with the food. Instead, he decided to buy the restaurant in in Manhattan's Midtown East neighborhood and now owns a total of five poke restaurants, the most locations of any poke concept in Manhattan. Sweetcatch outposts are located in NoMad (66 Madison Avenue), Midtown East (642 Lexington Avenue), Midtown (Grand Central Station), TriBeCa (World Trade Center – Balcony Level), and Financial District (125 Maiden Lane).
Founded in 2016, Sweetcatch Poke is committed to serving an authentic Hawaiian representation of poke – sustainably-caught fish, cut into chunks, pre-marinated in traditional Hawaiian marinades, such as sweet sesame shoyu, that enhances the texture by making the fish firmer and keeping it moist, and served over a bed of warm rice, marinated kale or vegetable noodles. Led by Chef Kohei Kashida, protégé of celebrity chef Lee Ann Wong, esteemed chef David Bouley and sushi master sushi master Eiji Ichimuras, Sweetcatch serves seasonal fresh and sustainably harvested salmon and tuna as well as organic tofu and roasted chicken options for its bowls.
Outside of the restaurant industry, Velluci has extensive experience with corporate partnering transactions in the life sciences field. He regularly assists life sciences companies with R&D licenses, venture capital financing, joint ventures, asset and stock acquisitions, commercialization collaborations, technology transfer arrangements and strategic alliances. Vellucci also has experience in a broad range of securities law matters, including public debt and equity offerings, private placements of common stock, preferred stock, debt, convertible debt and private investment in public equities (PIPE) financing. In addition, Vellucci is involved in a variety of general corporate matters, including corporate governance, disclosure and compliance obligations under the Securities Exchange Act of 1934, and working with high net worth individuals and family offices.